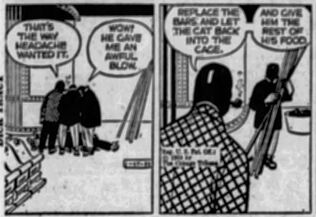 The Slot Machine Ring was a group led by Charley Hardly and his sons Uno, Duo, Trey, and Quad with Uno as the field leader. They hired Popsie's Mother to buy Headache's slot machine factory. They eventually killed both Headache and Popsie's Mother, and were tracked down by the police.
Duo, Trey and Quad were killed in a shootout and Charley died of a heart attack. Uno survived for a brief period, but eventually succumbed to his gunshot wounds in a hospital. The Ring's money was inherited by Charley's brother. It was stolen by The Rhodent and was later struck by a bolt of lightning which caused it to be fused into a solid piece of metal that was donated to the city.
It is not clear if the Slot Machine Ring was connected to the Apparatus, but it is not unlikely.
Community content is available under
CC-BY-SA
unless otherwise noted.