The man known as "The King" was a crime boss who may have been a successor of Big Boy. He had dark, wavy hair and sunken eyes.
When an associate of his was killed during a diamond theft committed by
Crewy Lou
, the King attempted to steal the diamonds from her. The King was shot and hospitalized, and Crewy Lou escaped. Crewy Lou subsequently died in a misadventure and the King was sentenced to life in prison.
The Return of the King
Edit
In the early 1990s, The King was paroled and began operating as "Godfather" to the Apparatus. He discovered that his girlfriend "Dirty" Harriet had become romantically involved with one of his high-ranking operatives - O.Z. Recrofne. The couple agreed to testify against the King in exchange for entry into the Witness Protection Program. They received cosmetic surgery to alter their appearance, then fled from the FBI's protection. The King devoted significant Apparatus resources to finding them, and he killed anyone who he thought might be aiding them.
O.Z. and Harriet were eventually found and were killed by 2 Apparatus hit-men (who were also shot and killed). Dick Tracy and the MCU were able to gather enough witnesses against the King to send him back to jail. This was a major blow to the Apparatus and they were not heard from for some time thereafter.
When the King appeared in the early 1990s, he was shown with light (presumably grey) hair, then later with dark hair. It's possible he colored his hair to seem more youthful and vigorous.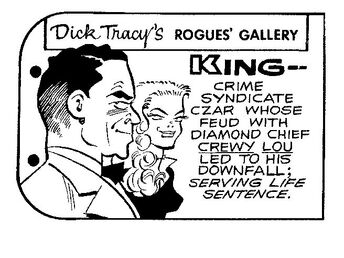 Community content is available under
CC-BY-SA
unless otherwise noted.