The Hair Bandits (also known as The Beautiful People) was a gang of four criminals in Dick Tracy's city. The Hair Bandits wore masks over their faces that resembled grass skirts.
The Hair Bandits would send a sponge soaked with chloroform through the window of a victim at the end of a long extending arm. This would render the victim unconscious while the bandits entered the victim's home and shaved off their hair. The hair would then be made into wigs. The wigs would either be sold back to the embarrassed victim, or sold to a broker.
Dick Tracy discovered the Hair Bandits hideout and investigated it. He was discovered and handcuffed by the bandits, but was able to free himself. Tracy was then knocked unconscious and placed in an ascending Air Car where the Hair Bandits expected that he would either freeze to death or die from a lack of oxygen.
While Tracy was missing, the Hair Bandits' hideout was raided by police. All four members were arrested. One of their victims identified their clothes, masks, and ornaments. The Hair Bandits were represented by the attorney Habe Corpussle.
Around the time that the Hair Bandits were arrested, Dick Tracy recovered and was able to return to police headquarters with only minor injuries.
Two other criminals were later arrested for trying to harvest human hair. They dressed in coats similar to the Hair Bandits and wore similar necklaces, but they did not use masks.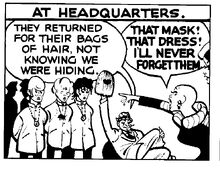 One the Hair Bandits (the one who dropped a heavy coping tile on Dick Tracy) was identified by the name "Hap". The other members were not named.
Community content is available under
CC-BY-SA
unless otherwise noted.