Spike Jr. was the son of Spike Smith. Like his father, Spike Jr. was a popular musician, specializing in comical songs. He was also known as "Son of Spike".
Spike Jr. had spiky pink hair, and he typically wore a bow tie, eyeglasses with rectangular lenses, and a jacket with multi-colored polka dots.
Spike Jr. and his band played an extended gig at the pool hall/night club run by the criminal Cueball. When Spike Smith learned that acts that had performed at Cueball's in the past were being used in an attempt to smuggle drugs, he asked his friend Dick Tracy to check up on Spike Jr.
Spike Jr. had a contentious relationship with his father, and he rejected Tracy's attempt to investigate. When his father came to him personally and expressed concern for his well-being, Spike Jr. softened and he and his father reconciled. They then paid a visit to Honeymoon Tracy, who was a fan of Spike Jr.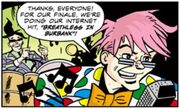 Later, on the closing night of Spike Jr.'s gig at Cueball's, the criminal Putty Puss attempted to rob the establishment. When Spike Jr. heard gunshots, he had his band play the song "Cocktails for Two", which features shots fired from a prop gun (which had also been a standard for his father's band). He hoped that the audience would believe that the noise from the shootout was part of the show therefore not panic.
In addition to his popular live performances, Spike Jr. enjoyed success as an internet phenomenon as well. Some of his popular songs include "Bad Romance to Worse", "Breathless in Burbank", and a folk song about the television show "Gilligan's Island".
Members of Spike Jr.'s band include Professor Groat (and his "kabonger") and the folk duo Mike & Tracy.
Community content is available under
CC-BY-SA
unless otherwise noted.