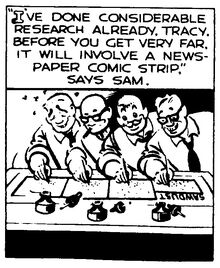 The Sawdust Boys (aka the Sawdust Gang) was the collective name for the team of art assistants that worked with Chet Jade on the newspaper comic strip Sawdust. Their individual names were Al, Ray, Jack, and Rick.
The Sawdust Boys' jobs consisted entirely of drawing the dots in the strip.
The Sawdust Boys were apparently unaware that Chet Jade's father was living in the attic of the home where they worked. The Sawdust Boys later welcomed Moon Maid's contributions as a gag writer.
A later incarnation of the Sawdust Boys consisted of Rick, Hap, Ray, and Al. They weren't drawn the same, though some had the same names.
The Sawdust Boys were inspired by Chester Gould's team of art assistants, including Rick Fletcher.
Community content is available under
CC-BY-SA
unless otherwise noted.