Rick Fletcher



Born:

June 1st, 1916

Place of Birth:

Burlington, IA

Known Relatives:

William Fletcher, Father (deceased)
Maude Fletcher, Mother (deceased)
Beverly Fletcher née Crosbie, Wife (deceased)
Ross Fletcher (Son)

Died:

March 16th, 1983 (age 66)
Rick Fletcher (June 1, 1916 - March 16, 1983)  was an American artist who took over as the lead artist on the Dick Tracy comic strip after Chester Gould's retirement in 1977. He worked on the strip until his untimely death in 1983.
Early Life
Edit
Rick Fletcher was born in Burlington, Iowa. His family later moved to Illinois, and shortly after that Fletcher took a job in the art department of an advertising agency in Iowa.
Fletcher served in the army during the second World War. He received a Bronze Star medal for meritorious service.
Art Career
Edit
Following the war, Fletcher resumed his art career, now living in Chicago, Illinois. In 1946, he married Beverly Crosbie.
In 1953, he began producing The Old Glory Story, a weekly comic strip about the history of the American Flag (with his colleague Athena Robbins). This strip ran until 1966.
Dick Tracy
Edit
In 1961, Fletcher joined the creative team of the Dick Tracy comics trip as Chester Gould's art assistant (a position that had recently been vacated by Dick Locher). Fletcher made several contributions to the strip while working with Gould, including suggesting the Two-Way Wrist TV in 1963.
Fletcher was an especially skilled draftsman, and his talent for drawing highly-detailed and accurate firearms earned him a reputation as the "top gun artist in comics". His dynamic style lent itself well to the strip's action-oriented nature. Fletcher would occasionally take photos of himself and an aide in action poses to help determine the position of the characters in the strip.
In 1977, Chester Gould retired and Rick Fletcher became the lead artist on the strip, working with writer Max Allan Collins. Fletcher's tenue on the strip saw the return of many classic Gould characters, as well as the introduction of many original creations.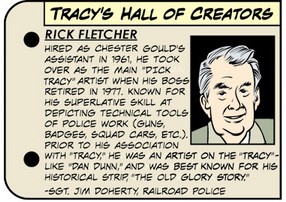 Rick Fletcher died unexpectedly in 1983. He is buried in the National Cemetery in Rock Island, Illinois.
Due to the publishing schedule of syndicated comics strips at the time, Rick Fletcher's art continued to appear in the strip weeks after his death. His final daily strips occurred during the "Ghost of Itchy" storyline, but his final Sunday artwork was from the subsequent story about the "New Crimestoppers and Lofty".
Fletcher was one of the member's of Chester Gould's team of art assistants who were parodied in the strip as the Sawdust Boys.
Fletcher's tenure on the strip is closely affiliated with writer Max Allan Collins, and fans will often refer to the Fletcher-Collins Era (although the two men reportedly had a difficult working relationship). This has been referenced by a subsequent creative team, who identified a bank in Dick Tracy's city as the Fletcher-Collins Bank.
Community content is available under
CC-BY-SA
unless otherwise noted.