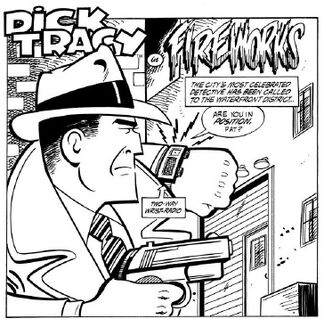 PLAINCLOTHES
was a
Dick Tracy
tribute website created by writer
Mike Curtis
and artist
Joe Staton
, with technical advice and additional material by
Sgt. Jim Doherty
. The site featured their version of a Dick Tracy strip, entitled "Major Crime Squad", as well as some other Tracy-related works.
This unlicensed work attracted the attention of Tribune Media Services, who hold the publishing rights to the Dick Tracy character. This eventually led to Curtis and Staton being offered the position of creative team on the official strip, upon the retirement of Dick Locher. The site has since been taken down.
The storyline featured on the PLAINCLOTHES site was later re-worked into Curtis & Staton's first official continuity on the strip, which featured the return of Flyface and Willie the Fifth.
A brief history of the PLAINCLOTHES site, as well as some art samples, were included with the e-book Calling Dick Tracy! Vol. 1.
Community content is available under
CC-BY-SA
unless otherwise noted.