Mina was a large, cross-eyed woman of limited mental facility. She lived in Smallville, and later took a job on the outskirts of Dick Tracy's city.
Mina acted as a nurse for Doc Codd and his illicit operations. For 25 cents she would administer anesthetic (ether poured into a cloth and held over the patient's face) while the doctor performed surgery. She was good-natured, and did not seem to be implicated by the doctor after he was caught during the Krome case.
In 2011, Mina was shown to be working with her cousin Morning Gloria at the Say It With Flowers Floral Boutique, located near Sunny Dell Acres. She was involved in a scuffle with the police, but released Policewoman Lizz from a bearhug when Lizz promised to give her ten dollars. Lizz kept the promise and Mina was later shown happily holding the money.
Despite Mina's status as an accessory to Gloria's crimes, she was apparently not charged. The publicity surrounding the case resulted in Mina's services being sought by several care facilities.
Mina was depicted as ugly, possibly even deformed, but she does not fit the usual definition of a Grotesque.
Morning Gloria claimed that Mina was her cousin, but this may have been a ruse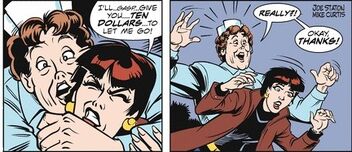 Community content is available under
CC-BY-SA
unless otherwise noted.