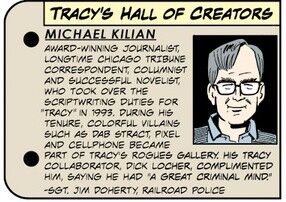 Mike Kilian (1939-2005) was a successful journalist and author. He succeeded Max Allan Collins as writer of the Dick Tracy comic strip in 1993, and he remained as the writer until his death in 2005 (his last written work on Tracy was published in early January 2006). Kilian worked primarily with artist Dick Locher. Michael Kilian died in October 2005 and was interred at Arlington National Cemetery.
Kilian's tenure as writer caused some controversy for several radical events that took place. For example, in 1994 Dick and Tess (who had long been depicted as happily married) experienced significant marital strife and a brief separation due to Tess' objection to Tracy's dedication to his career. Such strife was largely unprecedented in their married life, although it was much more common during their courtship in stories from the 1930s. This separation, much like previous separations in that courtship, eventually ended with Dick and Tess happily reconciled.
Soon after, Joe Tracy was aged into a laid-back, slang-talking teenager who referred to himself as "Cool Dude."
Notable occurrences in the strip under Kilian include the death of Pruneface, Tracy returning to his hometown to solve the murder of his high school sweetheart, and the kidnapping of Jewel Tracy.
Some of his original characters include the French woman Jenny Saisquoi, the abrasive police officer Det. Frisk, Breathless Mahoney's sister Heartless Mahoney, the porcine Pig E. Bank, the mysterious No Face, the fickle moll Rocksie, and the art-themed criminal Dab Stract.
Kilian caused greater controversy soon after Dick and Tess' separation and reconciliation, with retcons that contradicted past stories.
He resurrected Mumbles for a story that was seemingly a direct sequel to Mumbles' first story in 1947, which had ended with Mumbles presumed drowned, but with his body not recovered. In Kilian's story, Mumbles had been presumed dead ever since, until he re-surfaced in this story just before finally dying. This ignored all of Mumbles' subsequent storylines since his first tale, including two from Max Allan Collins and one by Chester Gould himself.
In this same story, Tracy's daughter, Bonnie Braids Tracy (firmly established since 1969 as a adult who was working a teacher in Washington State) had reverted to being a teen-aged high school student living at home. She was shown as being much closer in age to Joe Tracy. After this retcon, she became a fairly prominent, semi-regular supporting character for most of Kilian's run, when prior to 1994 she hadn't been seen since 1980.
Additionally, Sam's surname went from being spelt "Catchem" to "Ketchum" sometimes, and Lizz's name was often spelt with only one "Z."
In addition to his comic strip work, Kilian was also the author of several historical mysteries, including the Civil War-era Harrison Raines series. Prior to working on Dick Tracy he also collaborated with Locher on a number of humor books.
Community content is available under
CC-BY-SA
unless otherwise noted.