Mayor Stanley Norris was a bald, heavyset man who was the mayor of Dick Tracy's city in 1943. He had previously served as Chief of Police.
Encountering Mrs. Pruneface
Edit
Mayor Norris often dined at Hotel St. Fude, where he became fond of the food prepared by Mrs. Pruneface, who was hiding there under the alias "Marie". Norris offered Mrs. Pruneface a job as the cook at his mansion. Mrs. Pruneface was hesitant at first, but realized that the Mayor's home would be a good place to hide after she had killed her associate Emil.
Mayor Norris was pleased when "Marie" agreed to work for him. He reported the good news to his 2 beautiful adult daughters, who playfully teased him about his obsession with food.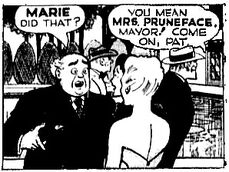 When Mrs. Pruneface's murderous tendencies were revealed, the Mayor was shocked to learn that he had been employing a killer. He was even more shocked when his
wife
, who had been bedridden for years, was found to have left her bed and killed Mrs. Pruneface (September 26th, 1943) before she could harm their family.
Mayor Norris was never depicting performing his duties as mayor, only conducting the affairs of his personal household.
Mayor Norris lived in a large mansion with a swimming pool. It is not clear if this was an official mayoral residence, or a home he had acquired with his personal funds.
Mayor Norris was shown to be preoccupied with food, particularly Mrs. Pruneface's onion soup. This may have served as an indication of his competence as a public servant, but no explicit reference was made to his effectiveness or popularity as Mayor.
Prior to serving as Mayor, Norris had been the Chief of Police. He was succeeded in that position by Chief Brandon. Brandon had joined the city police force in 1919, and Norris had been Chief until at least 1921.
Later in 1943, the storyline of Laffy Smith concluded with the arrival of Laffy's brother Kirk, a war hero. It was stated that Kirk would be honored at a reception being held by the Mayor. Presumably, this referred to Norris, but the Mayor's name was not explicitly stated.