Kisme Quick was the illegitimate daughter of Mumbles and Kiss Andtel. She was raised by her mother, who had always told Kisme that she was adopted. Kisme typically addressed her mother by her first name.
Kisme was an attractive young woman, with light-colored hair that she usually wore up.
The Return of Mumbles
Edit
Kisme took care of her elderly mother, who had grown paranoid in her old age. When Mumbles returned to Dick Tracy's city, Kiss feared that he would come seeking revenge. Dick and Tess Tracy visited Kiss, assuring her that she would be safe.
Kisme was aware of Mumbles' involvement with the theft of The Star of Ranjipooie, a valuable diamond. She searched for a copy of the film that was named after the jewel, believing that it might provide a clue to jewel's whereabouts, but with no success. She was eventually approached by
Bonnie Tracy
, who had recently seen the film at a revival house and had observed Kisme in a video store.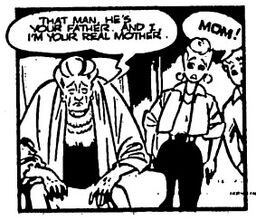 The two young women were found by one of Mumbles' associates and were brought to see him. The dying criminal gave Kisme a cryptic clue about the jewel's location. Mumbles then seemed to pass away. Kisme and Bonnie returned to Kisme's home, where Kiss revealed the truth about Kisme's parentage.  Kisme was shocked, and remained determined to find the Star of Ranjipooie.
Mumbles' clue led Kisme and Bonnie to Marbleyard Cemetery, where they believed the jewel would be found under a certain headstone. They were confronted by the criminal Feets Diamond, who was also seeking the jewel and had abducted several of Mumbles' other relatives in an effort to gain information. After a brief struggle, Mumbles appeared, revealing that he had not died earlier, and providing a distraction that allowed Kisme and Bonnie to knock their assailants unconscious. The Star of Ranjipooie was found, but the strain had proved to be too much for Mumbles, and he died as Dick Tracy arrived on the scene.
Kisme gave the jewel to Kiss, who stated her intention to donate it to a museum. Kisme was also present when Mumbles' body was buried at sea.
Mumbles has since been seen alive, but it is unknown if he has had any contact with his family.
The storyline involving Kisme Quick is extremely difficult to reconcile with established continuity and has been disregarded by the subsequent creative team.
Community content is available under
CC-BY-SA
unless otherwise noted.