Johnny Adonis was a member of the Major Crimes Squad. He was a tall, handsome man with dark hair, a moustache, and a prominent chin.
Johnny's original focus was art theft and fraud. He first met Dick Tracy during the Art Dekko case. Soon after, he joined the Major Crimes Squad in full capacity and worked several cases.
In late 1982, Johnny was placed on suspension by Chief Pat Patton, due to charges that Johnny had stolen heroin out of the police evidence room. This later made Johnny a suspect in the shooting of Chief Patton. After Dick Tracy resigned from the police force, Johnny was cleared of the charges against him and was offered a job by interim Chief Climer. Johnny refused to work for Climer and quit the force as well.
Tracy had started The Tracy Agency, a private investigations firm, and was hired by Patton's new wife Toby to find his assailant. Tracy interviewed Adonis, who denied shooting Patton. Johnny admitted that he had stolen the heroin, but said that he had disposed of it in order to prevent to two corrupt police officers (who had accused him) from stealing the heroin and selling it on the streets. Tracy believed Johnny and brought him on as a partner in the detective agency.
The pair eventually caught Patton's assailant and exposed the corruption in the police force. They worked some more cases together (including investigating the so-called "ghost" of Itchy), but Tracy later returned to the police force. Johnny did not.
Some time later, Johnny (who was apparently still working as a private detective) provided Tracy with some additional background information about Janice "Doll" Trohs during Tracy's investigation of the kidnapping of Sparkle Plenty Jr.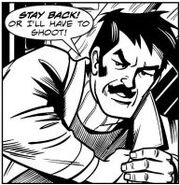 Johnny was later seen still working at the Tracy Agency, alongside Tess Tracy. The two were brought in on the investigation of the death of Vincent Vinyl, which ultimately led to the showdown with the new Mr. Crime.
Johnny was later shown investigating the activities of the Black Hearts. In this capacity, he tracked Mumbles to Florida, but was recognized by the criminal.
Johnny was present when Tess and Dick confronted Shaky II about Shay's attempt to extort Tess. After Shaky shot Tess, Johnny stayed with her rather than pursue the criminal.
Community content is available under
CC-BY-SA
unless otherwise noted.