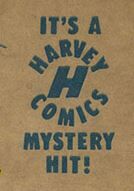 Harvey Comics was an American comic book publishing company founded in 1941. It published several notable comics, including Casper the Friendly Ghost, Baby Huey, Wendy the Good Witch, and Richie Rich. It also published many titles based on licensed properties.
In 1950, Harvey Comics took over the publication of Dick Tracy Monthly from Dell Comics. Harvey did not re-number the title, and the first issue released by Harvey was Vol. 1 #25. This issue featured Flattop.
Like much of the Dell run, Harvey's Dick Tracy Monthly consistently primarily of re-purposed comic strip panels, with some additional original supplemental material (usually text-based). The series ran in chronological order for the most part, though it eventually went back to older strips. Harvey also continued Dell's trend of including 1-2 page Minute Mysteries, which later inspired a similar feature in the Dick Tracy comic strip.
Some material was omitted from Harvey's issues, either to conserve space and reduce repetition, or for other editorial concerns. Some stories (and text) were altered to reduce the level of violence depicted, such as in the case of Spinner ReCord.
Harvey's Dick Tracy title (which switched to bi-monthly publication in 1959) ran until 1961. The final issue was #146.
Harvey typically used original artwork for the covers of its Dick Tracy title, though the artists were rarely credited. Some of these covers were painted, and were meant to emulate the style of the popular "men's adventure" publications of the era.
One notable cover of Harvey's Dick Tracy title was issue #129 from 1957. This cover featured a drawing of Flattop Jr. by artist Al Avison, which was later re-purposed for the cover of IDW'S The Complete Dick Tracy Vol. 17.
Community content is available under
CC-BY-SA
unless otherwise noted.