Earl Welz was a criminal in Dick Tracy's city. He had light hair that he typically wore long, and a wide nose.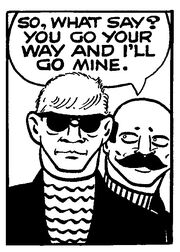 Earl Welz was the father of Z.Z. "Tappy" Welz, a former telephone company employee who began making obscene phone calls. Tappy's wife confronted him and they exchanged gunshots. Tappy was killed. Mrs. Welz was freed when the evidence showed that she acted in self-defense.
Earl was enraged by the killing of his son and he became determined to get revenge. He confronted his son's wife and tried to kill her with a knife. Mrs. Welz was in the company of the policewoman Lizz, who shot Earl through the shoulder and arrested him. He was soon released on bond.
Earl recruited his friend Chilly Hill into a new revenge plot. They stole Vera Alldid's custom-made sports car and parked in front of Lizz's apartment, believing that she would recognize the vehicle and assume that the Alldid's had come to visit her. Welz and Hill knocked on Lizz's door and abducted her when she opened it. They put Lizz in the car's trunk, then drove to a remote gas station to steal fuel. Welz and Hill then took the car to a wooded area and set it on fire. They fled, believing that Lizz would die in the fire.
Unbeknownst to Welz and Hill, Lizz had escaped from the car when it was stopped at the gas station. She was able to describe Welz's accomplice and learn his identity. At around this time, Hill took Welz to meet his sister Nellie, a barber. Nellie reluctantly agreed to help the men alter their appearance.
By this time, the police had begun to investigate Hill's associates and family, and they learned about Nellie's job as a barber. Rather than split up, Welz insisted that Nellie transport him and Chilly in her van. He held her at gunpoint as she drove them out of the city.
Nellie began to violate speed limits, hoping that a police officer would stop her. She lost control of her van, which crashed by a roadside and collapsed a lamppost. The lamppost landed on the van, crush the roof in and making the rear doors impossible to open. Police arrived on the scene and took Chilly and his sister into custody. Earl Welz had to be freed from the rear of the van using a cutting torch. He was then arrested.