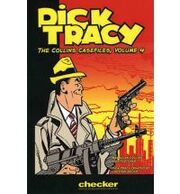 Dick Tracy: The Collins Casefiles Vol. 4 was planned to be the fourth book in a series of collections of the Dick Tracy comic strip published by the Checker Book Publishing Group.
It was to feature stories written by Max Allan Collins (hence the title) with art by Rick Fletcher.
Presuming that it followed the format of the 3 previous volumes, the book would have included the storyline of B.U. Tiffil, then Ownley Chylde, and part of the Dick Tracy 50th Anniversary storyline.
Artwork was commissioned for the book's cover, but the book has not been published and there are apparently no immediate plans to produce it.