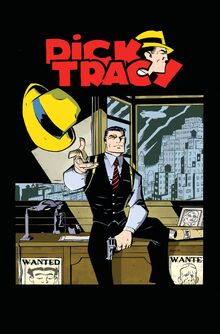 Dick Tracy: Forever was a 4-issue comic book miniseries published by IDW. The first issue was released in April 2019.
The mini-series was written and penciled by Michael Avon Oeming, with colors by Taki Soma. Lettering was by Shawn Lee. Each issue featured variant covers.
The mini-series was announced during the publication of the Dick Tracy: Dead or Alive miniseries from a different creative team.
Plot
[
]
Each issue takes place in a different time period, with Tracy fighting crimes that are relevant to the era. Tracy has different technology and allies as time progresses.
Issues
[
]
Trade Paperback
[
]
A trade paperback collection was released at the end of October, 2019. It does not contain any additional material.
Notes
[
]
According to IDW Comics, following the completion of Dick Tracy: Forever there are no plans for original Dick Tracy comics in the foreseeable future.