Dick Locher



Born:

June 4th, 1929

Place of Birth:

Dubuque, Iowa

Known Relatives:

Mary Locher, Wife
John Locher, Son (deceased)
2 Other Children

Died:

August 6th, 2017 (age 88)
Dick Locher was an American cartoonist. He took over the position of main artist on the Dick Tracy comic strip in 1983, following the death of Rick Fletcher.
Art Career
[
]
Locher studied art at the University of Iowa and the Chicago Academy of Fine Arts. He later became an art assistant on the Buck Rogers comic strip.
In addition to his comic strip work, Locher became a longtime editorial cartoonist, working primarily for the Chicago Tribune, the same media company that syndicates Dick Tracy. He won a Pulitzer Prize for Editorial Cartooning in 1983.
The Dick Tracy Years
[
]
In 1958, Locher became an assistant to Chester Gould, providing some inks and coloring. Locher also contributed some story and plot elements, such as the resolution to the Granite Island death trap. He left this position in 1961.
Locher returned to Dick Tracy in 1983. He worked with writer Max Allan Collins, and the two had a cordial professional relationship. Locher incorporated some elements of his editorial/political cartooning skill, especially in the cases of Putty Puss, who could assume the appearance of famous people.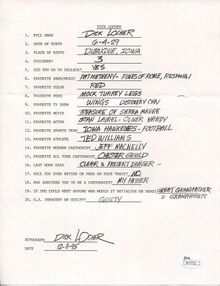 Locher's son John worked on the strip as an assistant. John passed away in 1986 at a young age. As a tribute, Locher began to draw Junior Tracy as resembling John, contrary to his previous depictions in the strip.
Locher stayed with the strip following the departure of Max Allan Collins in 1992, writing an interim story himself. He collaborated with the new writer Mike Kilian until Kilian's death in 2005.
Following the death of Kilian, Locher himself took over as writer of the strip. Starting in April 2009, he worked with new artist Jim Brozman, and continued to provide some sketches and art samples. Locher and Brozman both left the strip in 2011. Locher retired to Naperville, IL where he passed away in 2017.
Honors
[
]
Pulitzer Prize for Editorial Cartooning, 1983
Inducted into the Oklahoma Cartoonists Hall of Fame, 2006
Notes
[
]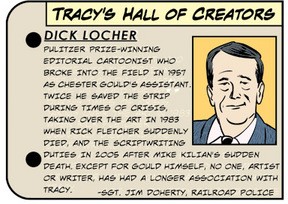 Locher's time on the strip has received a mixed reaction from fans. While many appreciate his consistency and dedication, some have noted that his art lacked the dynamism of his predecessors, and could be ambiguous and repetitive (especially in later years). His work as solo writer between 2006 and 2011 is widely regarded as one of the strip's weaker eras by fans.
Locher's birthday was acknowledged in a short series of strips in 2014, wherein B.O. Plenty mistook the Pulitzer Prize for a prize for chickens (that is, "pullets").