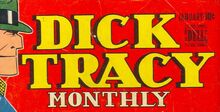 Dell Comics was the comic book publishing division of Dell Publishing. They published a wide variety of comics, including many based on licensed properties from films, television, and animated cartoons.
From 1947 to 1949, Dell Comics published Dick Tracy Monthly. Initially, these comics consisted of reprints of the daily newspaper strips (in color and with some re-purposing to reduce repetition). The first story published was Dick Tracy's encounter with Doc Hump. The title then proceeded chronologically, reproducing most of Tracy's notable adventures from the mid-to-late 1930s over the course of 18 issues. The final reproduced story was the Hotel Murders of Athnel Jones.
In addition to the reprinted content, Dell's comic included some additional supplemental material. Some of this was text-based (such as short stories, crime prevention tips, and character profiles) while some was illustrated. A recurring feature was the adventures of The Iron Man, a rugged plainclothes police detective who was similar to Tracy in many ways. The covers of Dick Tracy Monthly also featured original artwork, but the artists were not credited.
Starting with issue #19, Dick Tracy Monthly featured original stories produced specifically for the comic book. The writers and artists of these stories were not credited. Six such issues were produced.
In 1949, the rights to publish a Dick Tracy comic book changed hands. Harvey Comics began publishing Dick Tracy Monthly starting with issue #25. Harvey did not re-number their publication, and they continued Dell's practice of including original supplemental material.
Community content is available under
CC-BY-SA
unless otherwise noted.