Clarke Van Dyke was an actor who introduced himself to Dick Tracy immediately following Tracy's adventure with B-B Eyes. Van Dyke was a dark-haired man with light eyes, and a Van Dyke-style beard and moustache.
Van Dyke reported the disappearance of his fellow actor, Yollman, who was playing the lead in a production of the play Blue Flame at the Auditorium Theater. Yollman's wife Dianne was the leading lady and Van Dyke was his understudy. Yollman had disappeared and Dianne had asked Van Dyke to contact Tracy to investigate.
Van Dyke and Yollman looked very similar, only Van Dyke had dark hair while Yollman's was blond. Van Dyke had kidnapped Yollman and was holding him prisoner with the help of a diminutive hypnotist named Matri. Van Dyke's plan was to replace Yollman on stage and impress everyone with his acting ability. He also hoped to win Dianne's affections in the process (the two had been engaged before Dianne met Yollman).
Van Dyke's plan was going well (the critics loved his performance and Dianne professed to be in love with him again) when Matri was suddenly killed in an accident. Yollman was seemingly still mesmerized and showed no indication of reviving. Van Dyke panicked.
Dianne arrived at Van Dyke's apartment to tell him that Matri was dead and Tracy was suspicious. Van Dyke and Dianne decided that Yollman must be disposed of, and Dianne left Van Dyke to do it. Tracy was observing Van Dyke's apartment and saw Dianne come and go.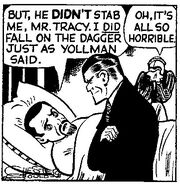 At this point, Yollman came out of his trance. Feeling betrayed by his wife and his understudy, he pulled a gun on Van Dyke and forced him to go to the theater. There, Yollman had Van Dyke re-enact his stage performance, which Yollman then mocked. After six hours, the exhausted Van Dyke tripped over a rope that tethered a sandbag to the rafters. The sandbag fell and hit Van Dyke, causing him to fall on a prop knife, stabbing himself.
At this point Tracy arrived and Yollman fled. Van Dyke was rushed to a hospital. The wound proved to be superficial, and when he recovered he expressed regret for how he has mistreated Yollman. Dianne agreed, and told Van Dyke that things were over between them. When Yollman (who had gone on the run) was found, he and Dianne reconciled. Van Dyke stepped aside.
Community content is available under
CC-BY-SA
unless otherwise noted.