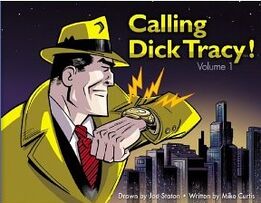 Calling Dick Tracy! Vol. 1 is an e-book collection of strips that originally appeared March 14, 2011 to July 30 , 2011. It is credited to Mike Curtis and Joe Staton.
Forward
Waiting for Dick Tracy by Joe Staton
How We Got the Job by Mike Curtis
Tracy & His Allies
Rogue's Gallery
Flakey Biscuits Makes the Dough
Dick Tracy vs. the Villains: A Comparison
Joe Staton's Bio
Mike Curtis' Bio
Team Tracy Bios
Calling Dick Tracy! Vol. 1 is the first e-book collection of Dick Tracy comics, starting with the debut of the new creative team in 2011. Subsequent volumes are anticipated.
Supplemental material included in the e-book includes introductions by the writer and artist, as well as samples from PLAINCLOTHES, the website that served as their "try-out" for the strip.
Community content is available under
CC-BY-SA
unless otherwise noted.