2-Way Wrist Radio



First Appearance:

January 13th, 1946
Introduced in January of 1946, the 2-Way Wrist Radio was an invention of industrialist Diet Smith's son Brilliant. Like many of Smith's inventions, it was kept from the public marketplace and given over exclusively to the use of law enforcement.
The 2-Way Wrist Radio allowed for audio communication between 2 parties. It was powered by a strong atomic battery, and used an aerial wire that ran up the inside of the wearer's sleeve. It was considered vastly superior to bulky walkie-talkies or CB radio devices, and was used very effectively by Dick Tracy and the members of his department.
In December of 2016, Tracy's Wrist Wizard suffered an explosive malfunction so Diet Smith gave Tracy a temporary wrist communicator which superficially resembles a 2-Way Wrist Radio, but with many of the equivalent functions of the newer design.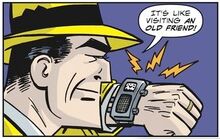 In June of 1954, the radio was upgraded to increase the range from 500 miles to 1,000 miles, then again in 1956 to 2,500 miles.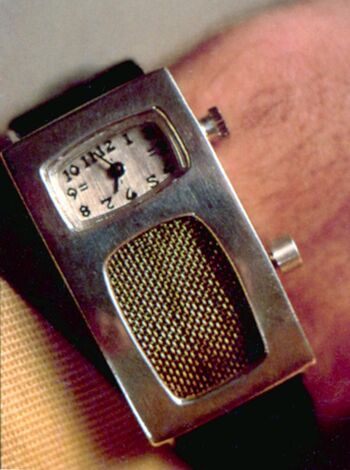 In 1964, the 2-Way Wrist Radio was upgraded to the 2-Way Wrist TV.
Tracy gave his young son Joe an obsolete Wrist Radio, which Joe was able to use to call for help when he was abducted and held hostage by dognappers.
Similarly, Little Face was given an old-style wrist radio to use in gathering information about the second Mr. Crime gang.
In the 1990 Dick Tracy feature film, the 2-Way Wrist Radio was the invention of police scientist Bug Bailey, who used it in his surveillance of the criminal Big Boy. Its introduction was shown in the comic book tie-in by John Moore and Kyle Baker.
A version of the 2-Way Wrist Radio was featured in promotional material for the Samsung Smartwatch. The Wrist Radio was also frequently referred to in news stories regarding the debut of the Apple iWatch.