Jurassic World: Dominion Dominates Fandom Wikis - The Loop
Play Sound
2-Way Wrist Computer



First Appearance:

June 13th, 1986

Created By:
The 2-Way Wrist Computer was an wrist communicator upgrade introduced by Diet Smith in 1986 for Dick Tracy's police department.
The Wrist Computer improved upon the 2-Way Wrist TV by adding a variety of additional functions, including a long-range wireless datalink that allowed the wearer to have easy access to various databases for fingerprints, license plates, firearms registries, etc. Furthermore, the device had a lie detector function and a wired stylus-like probe for on-scene chemical analysis of evidence.
The Wrist Computer constantly monitored the wearer's heartbeat to guard against unauthorized usage of the device (since the heartbeat is as distinctive as a fingerprint). This feature also worked with a homing device to enable police dispatch to be immediately alerted that the wearer required assistance if the detected heartbeat showed irregularities or stopped.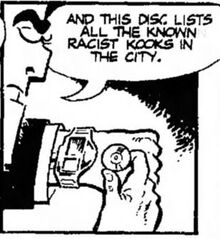 The Wrist Computer was later upgraded with the ability to read micro data discs. This version of the Wrist Computer was sometimes referred to as the "Wrist-Disc". It was later upgraded to the Wrist Geenee.